Recent events brought back old memories of (very) early childhood TV viewing. As a young child, I found TV quite boring. Children's TV, that is. I pretty much tolerated Bill and Ben the Flowerpot Men, possibly only because Little Weed was kind of cute. In a British middle class sort of way.
I never understood Bill or Ben though.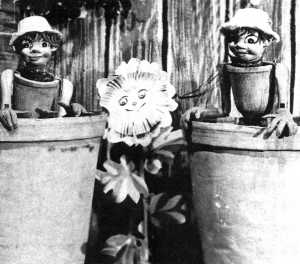 I also struggled a little with Sara and Hoppity.
Sara Brown has a toy as naughty can be, and he starts to sing when you wind up his key. One leg is much shorter, but give him a chance, and he will tell you how he can manage to dance;
Dear old Hoppity, naughty Hoppity, there is no toy as naughty can be;
Clever Hoppity, lovely Hoppity, he sings tiddly dum and he sings tiddly dee …
And it goes on in some weird, demented kind of way. That was a tiny piece of the theme tune: a tiny piece is enough.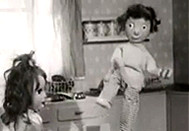 The series was made in 1960, slightly before my time, but there was a lot of repetition on TV in those days. To me, in around 1965, it was new. And horrible. One can't help but wonder how anyone could have imagined that such shit could have been of benefit to young children.
There's a video or two on YouTube; I couldn't bring myself to add I'm sure that such programmes must have damaged many children, now middled aged adults.